Affiliate Marketing
Affiliate Marketing 101: Everything You Need To Know To Make Money Affiliate Marketing
Affiliate marketing can be one of the most lucrative forms of passive income, with the least amount of start up costs required to start.  In fact, you don't have any start up costs in most cases.  That's why it's such a popular way to create real passive income!
Here are the basics to affiliate marketing.  Learn everything you need to know to grow a successful affiliate marketing business.  Here you will find answers to questions like:
What is affiliate marketing?
How does affiliate marketing work?
Is affiliate marketing an MLM business?
How much money can you make affiliate marketing?
How long does it take to be successful?
Do you need to have prior experience to build an affiliate marketing business?
And that's just the start! Consider this your one stop shop for all things affiliate marketing.
What is affiliate marketing?
Ever notice within website blog posts, often times you will find a link embedded in a word or phrase?  When clicked on, these links often send you to a product page of a trusted product or service.  If you were to make a purchase, that website would make a referral commission from the sale.
Affiliate marketing is simply the referring of any product or service to your customers.  You get paid a commission when one of your referred customers makes a purchase.  Your commission is a percentage of the sale amount from your customers purchase.
Recommended Affiliate Marketing Course
How To Start An Affiliate Marketing Business
---
In efforts to not over-complicate the process, we've laid out how to start an affiliate marketing business into four easy to follow steps.  Believe it or not, every successful affiliate marketer follows this 4 step process consistently.  They may call it something else, or have their own version.  But generally speaking this is how you make the big bucks with affiliate marketing!
To make things simple, follow this 4 step process to choosing a website niche and then MOVE ON!
Determine your niche topic
Build an online presence
Get noticed and attract an audience
Promote your affiliate products
1. Determine your niche topic
Choosing your niche topic can be a double edged sword if you aren't careful.  On the one hand, you want your affiliate marketing business to be a success with a large purchasing hungry audience.  On the other hand, you can end up spending days or weeks picking a niche, then you find yourself questioning your decision once you've already started building out your niche business.
The idea here is to pick a niche you enjoy talking about, while ensuring your options to monetize that niche are abundant.  You will be writing a lot of content on the topic, so you better choose something you enjoy otherwise you will burn out easily.  Follow these 4 steps to get started:
Make a list of 5-10 topics that interest you
Choose your top 3 out of that list according to interest
List 2 subtopics of each of those 3 topics from step 2
Determine which of those subtopics has the largest potential audience, and largest potential to make money, and choose that subtopic.
That's it! Why did we choose from the list of subtopics and not the original topics from the list of 3? Having too broad of a topic will hurt you in the long run, and will result in a failed website.  Choosing a detailed niche topic with a specific readership will build your credibility and make you the "go to" expert.
Recommended additional training: Choosing A Profitable Niche Market For Your Affiliate Marketing Business
Lets be clear up front about something; chances of you changing your niche topic or finding out your niche or website isn't profitable are high.  It will happen, and does happen often.  So don't waste any more time thinking about which niche, or website domain name you choose, just pick one using the process, and move on.  The data will tell you the facts as you build out your website, and you can make a decision to switch should it make sense at that time.
2. Build your online presence with an awesome website
A website takes a few resources to build and maintain.  The services required to build a website are:
A domain name
A website host
A website builder
The domain name is like a cell phone number when comparing it to mobile phones.  It tells people where they can find you or your business on the internet.  The website hosting company is like your cell phone provider.  They store your website data and content on their secured servers.  A website builder is the tools used to build out the structure of your website layout, pages, posts, etc.  The most well known website builder today is WordPress.  They provide the tools necessary to build and organize the layout and structure of your website.
Your website domain name
You can build your website on either a free domain name or a paid domain name.  The differences are simply how the domain is displayed.  A free domain name will look something like "www . [your business name] . [domain name company] . com".  It is essentially a domain name within a domain name (aka a sub-domain). A purchased domain will look like any other regular website URL.  For example, "www . [your business name] . com".
Purchased domain names generally cost only a few bucks per year. Where you buy your domain isn't as important as where you decide to host your domain (which we will discuss in detail below).  Once you buy your domain name, you can transfer your domain to whichever hosting service you prefer (mind you most web hosting services offer the option to buy a domain name directly through them, eliminating the need to transfer after purchase).
Here is a list of trusted companies to purchase your domain:
You can purchase your domain name through our recommended provider HostGator, who will also provide you with hosting services and integrate with WordPress, your website builder.
If you prefer to start your website with a free domain name, then we recommend using SiteRubix.  They make it so easy to build your website, that you can do it all in under 60 seconds! See the video on how to build a website under 60 seconds below.
Learn how to build a website for free in under 60 seconds!
Website hosting options
You will find that most website hosts will offer you the complete package for purchasing a domain, hosting your website, and access to integrate with top website builders like WordPress.
For the easiest option to get your website going quickly, your best bet is purchasing your domain through a web hosting company who sets up web hosting and website builder integrations for you.
Host Gator is our preferred web hosting platform of choice, due to their reliability and long term positive reputation.  They have also been recommended by some of the worlds largest tech companies like PCMag.com, HostingAdvice.com and WPBeginner.com.
Not only that, but our experience with them has been second to none since day one.  You wont be disappointed when choosing Host Gator to begin your online business.
3. How to get noticed online and attract a loyal audience
Now that you have your chosen niche market, you've built your awesome website, now you need to let people know who you are.  There are two ways to attract your audience:
Organic traffic through search engine optimization (SEO)
Paid traffic through pay-per-click (PPC) ads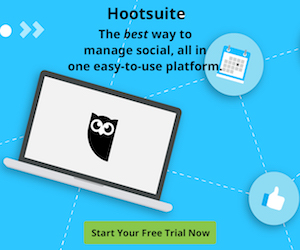 Organic traffic is generated by creating helpful content related to your chosen niche market.  By writing "how to" blog posts, product reviews and writing answers to frequently asked questions that your target audience has, naturally you will get noticed by search engines and generate free traffic by getting found by search engines.
Organic traffic also comes through promoting your blog content on your social media platforms.  You can use social media schedulers like Hootsuite to schedule social media posts that promote your website content.  As your social media following grows, so will your online presence.
The second way to attract your target audience is through creating PPC ads with major search engines like Bing and Google.  You can pay to have your blog posts be listed on the top of the page for common search terms.  You pay Bing or Google each time someone clicks on your link from a search engine, thus the term "pay-per-click" ads.
The second option is much quicker obviously, but requires some up front capital and a bit of education on how to properly do this.  Here's a recommended training on how to properly use PPC ads to promote your content and build a loyal following.
4. Make money by promoting affiliate products
Affiliate products are simply trusted tools, services and resources that will aid your audience in achieving their desired outcome related to your niche topic.  For example, our website The Money Minutes is a website dedicated to helping people discover how to create an abundant life through entrepreneurship, online business, success and proper financial habits & strategies.
Within this topic, there are tools and resources that I have personally tried and tested, and want to share with others to discover as well.  By linking my content to helpful tools and resources, I get paid a small commission if someone makes a purchase from my promoted product or service.  This does not charge the reader anything by clicking on promoted links, its rather an agreement between our website and the promoted product or service.
Obtaining Affiliate Links With Affiliate Marketing Companies
You can obtain unique affiliate links through each individual company individually by visiting their website and searching for their affiliate program, or you can set up a free account with an affiliate marketing company like Flex Offers, who give you access to affiliate links to over 12,000 different companies in nearly every niche market.
I prefer the latter of the two, however you will also find that many companies will require you go directly through them to get an affiliate link set up.
How To Make Money Affiliate Marketing
By following the 4 step process above, you will naturally begin to grow a following of like minded individuals who keep coming back to your website for added help.  When done consistently, it turns into a numbers game that can be scaled to be very lucrative.
Here is a basic example of what may be expected from your affiliate marketing business.  Take the following scenario to show you the potential you have with affiliate marketing: (the following are conservative examples and may be much higher)
Each affiliate commission averages to be $5 per sale
Your approximate traffic conversion rate (number of visitors that result in a sale) is 2%
Each new post results in 30 website visitors per month (approximately 1 per day)
You have 50 posts, resulting in about 1500 website visitors each month
With 1500 website visitors each month, and an average of 2% of those visitors are making a purchase, that means 30 website visitors are purchasing from your affiliate links.  Each purchase is $5 each, which is an additional $150 per month.  And that's just from the work you've already done, and using very conservative numbers.
Imagine a website that gets 1,000 visitors per day with those same numbers.  That would mean 30,000 visitors each month.  2% of your visitors make a purchase, or 600 visitors purchase from your links this month.  With an average of $5 commission and 600 visitors, you've just made an additional $3,000 of passive income!
As your website grows from there, it only grows in income.  The more visitors you get, the more money you can make.  Some websites that have been doing this for years are getting millions of visitors per month and hundreds of thousands per day.  Imagine the potential!
How much money can you make affiliate marketing?
This really varies per person.  Its hard to give an exact dollar figure, but I can certainly show you a few examples of how much you can make affiliate marketing from many who are using this same formula to build an affiliate marketing business.
The amount you can make is a direct result of how much effort and patience you put into building your online presence.  This can take time, but if you give it 6 – 12 months of a couple hours work each day, no doubt you will start seeing BIG results.